Simplifying complex

demand 

challenges for restaurants using
AI-powered
sales forecasting
.
Lineup.ai is an easy-to-use, dynamic, and automated forecasting software for restaurants that harnesses the power of cutting-edge artificial intelligence.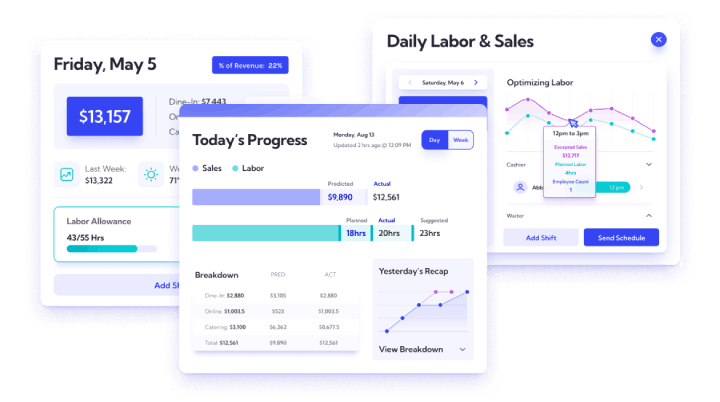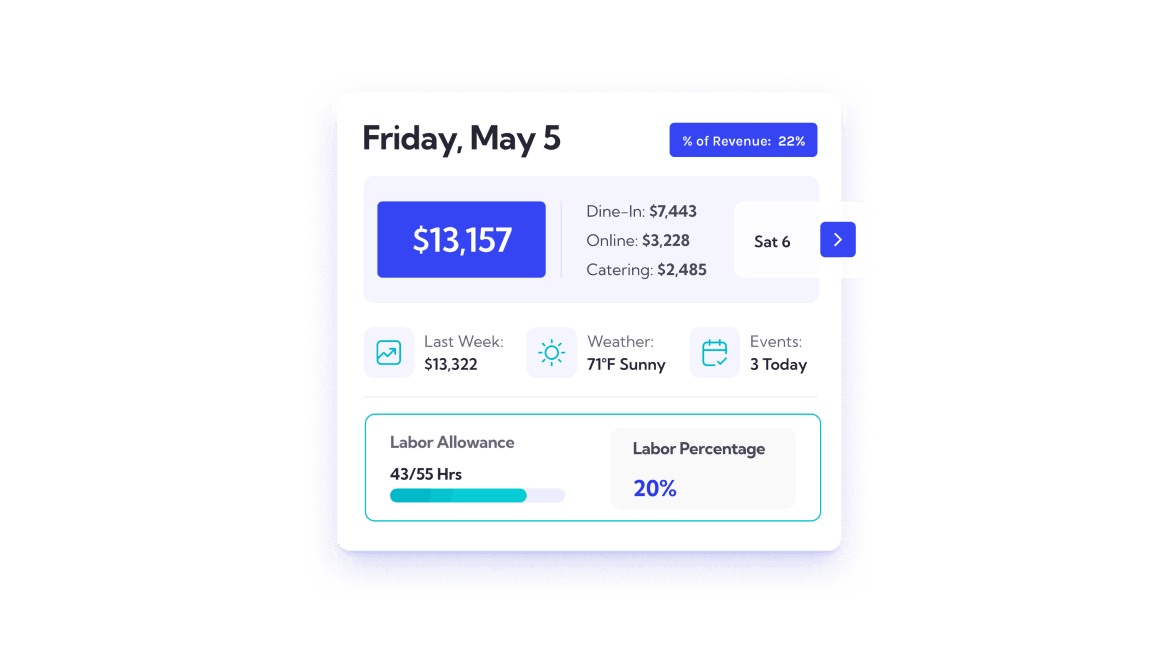 Automate and standardize processes
Lineup.ai's restaurant demand forecasting features
Lineup.ai's AI forecasting software will replace all the manual estimating and demand planning. Make accurate predictions about restaurant demand, sales, and labor, and schedule your restaurant staff according to these predictions.
Detailed restaurant sales predictions
Generate hourly, daily, and weekly sales forecasts with unprecedented accuracy thanks to predictive analytics. The unique algorithm behind our restaurant sales forecasting software is always learning, identifying patterns, and taking in information for even better future forecasts.
Better restaurant labor planning
Our restaurant labor forecasting software arms you with solid insights so you can know what to expect at each location and shift. Reduce under- and overstaffed shifts by having the right people at the right time to deliver an optimal customer experience.
Built-in restaurant shift scheduling
Integrations for more seamless operations
Connect your existing systems using one of our Lineup.ai integrations. Integrating your point of sale (POS) systems allows you to access historical sales and real-time data to feed Lineup.ai's machine learning for continuously improved forecasting.
Dynamic forecasts with actionable insights
Check-in on forecasts whenever you want using the real-time sales dashboard. If any variable changes, such as an event cancellation, Lineup.ai adjusts automatically so managers can quickly see the anticipated impact on sales and shift plans.
Improve employee communication
Eliminate the need for employees to come to work on their day off just to check the schedule. Empower your team to access their schedules anytime and stay in the loop with the employee app. They can submit and view their schedule, request time off, swap shifts, and more.
What Lineup.ai's automated forecasting software can do for restaurants
Confidence that you're staffed properly
Know that you have the right amount of food and staff on hand with Lineup.ai's algorithm that pulls in data such as nearby events, weather forecasts, geographic updates, past sales data, and more.
Increase restaurant efficiency & profitability
Lineup.ai's machine learning software gets even more accurate over time. When you optimize labor and food costs for every shift, you can continue delivering superior service every time.
Optimize restaurant staff schedules
Lineup.ai's built-in labor scheduler removes guesswork so that general managers (GMs) can line up staffing for the exact hours needed. Employees can submit their availability through the user-friendly Lineup.ai mobile app for more streamlined scheduling.
See how much Lineup.ai can save you
Get your ROI with Lineup.ai
Simply add the below information for your projected return on investment from using Lineup.ai.
Average monthly sales for one location

Current average percentage of sales going toward labor costs

New target labor cost percentage goal

Number of restaurant locations

Choose a plan with Lineup.ai
Potential savings with Lineup.ai
Enter your current information and goals below for an estimated return on investment with Lineup.ai.
This total is calculated from your inputs above.
Demo Video
See how Lineup.ai works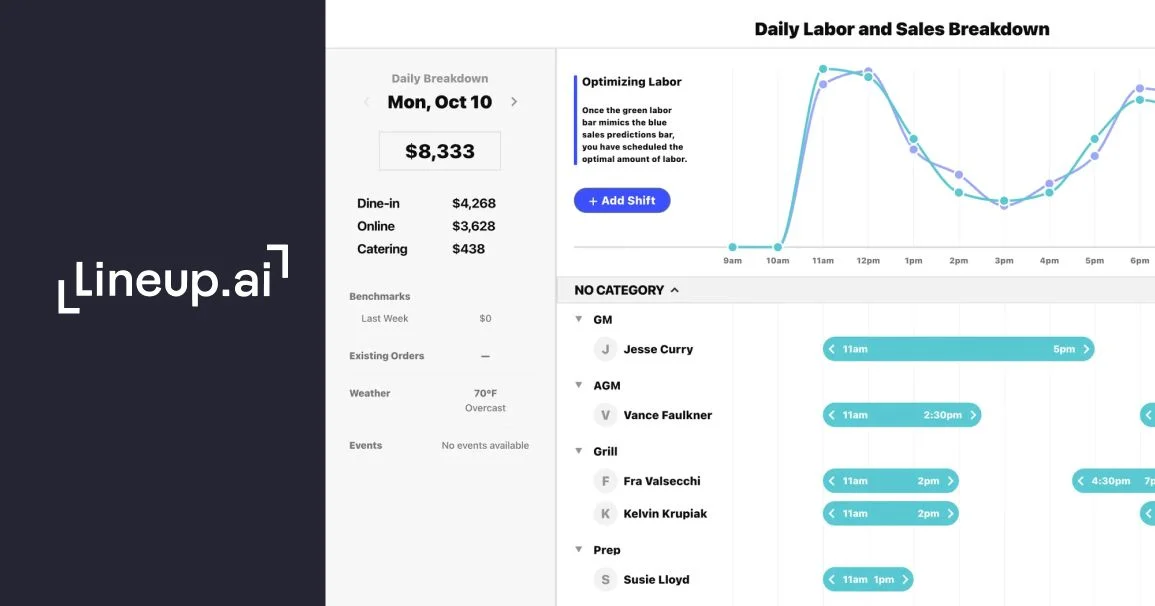 RESULTS
Proven accuracy you can count on
Lineup.ai's AI-powered, accurate restaurant forecasting means you can make more informed decisions that can increase efficiency and profitability.
35%
more accurate than traditional forecasting methods
POWERFUL BENEFITS
Lineup.ai demand forecasting improves workflows
Use the power of easily repeatable processes to drive repeat business and future sales while increasing employee happiness and retention.
Gives general managers more helpful insight
Lineup.ai helps take work off a manager's plate by arming them with useful, accessible insights. Reduce stress and minimize how often they need to pick up the slack with accurate sales forecasts.
Helps executives uncover profitability in razor-thin margins
The future of your restaurant business and the health of your bottom line has never been clearer. Lineup.ai helps leadership teams overcome some of the most challenging parts of the restaurant industry, including improving profit margins, maintaining peak efficiency across locations, and reaching revenue goals.
Equip employees with tech-forward scheduling
Employees can submit availability from their phones using our mobile app, receive alerts when the schedule is available, and see if scheduling requests have been approved or denied.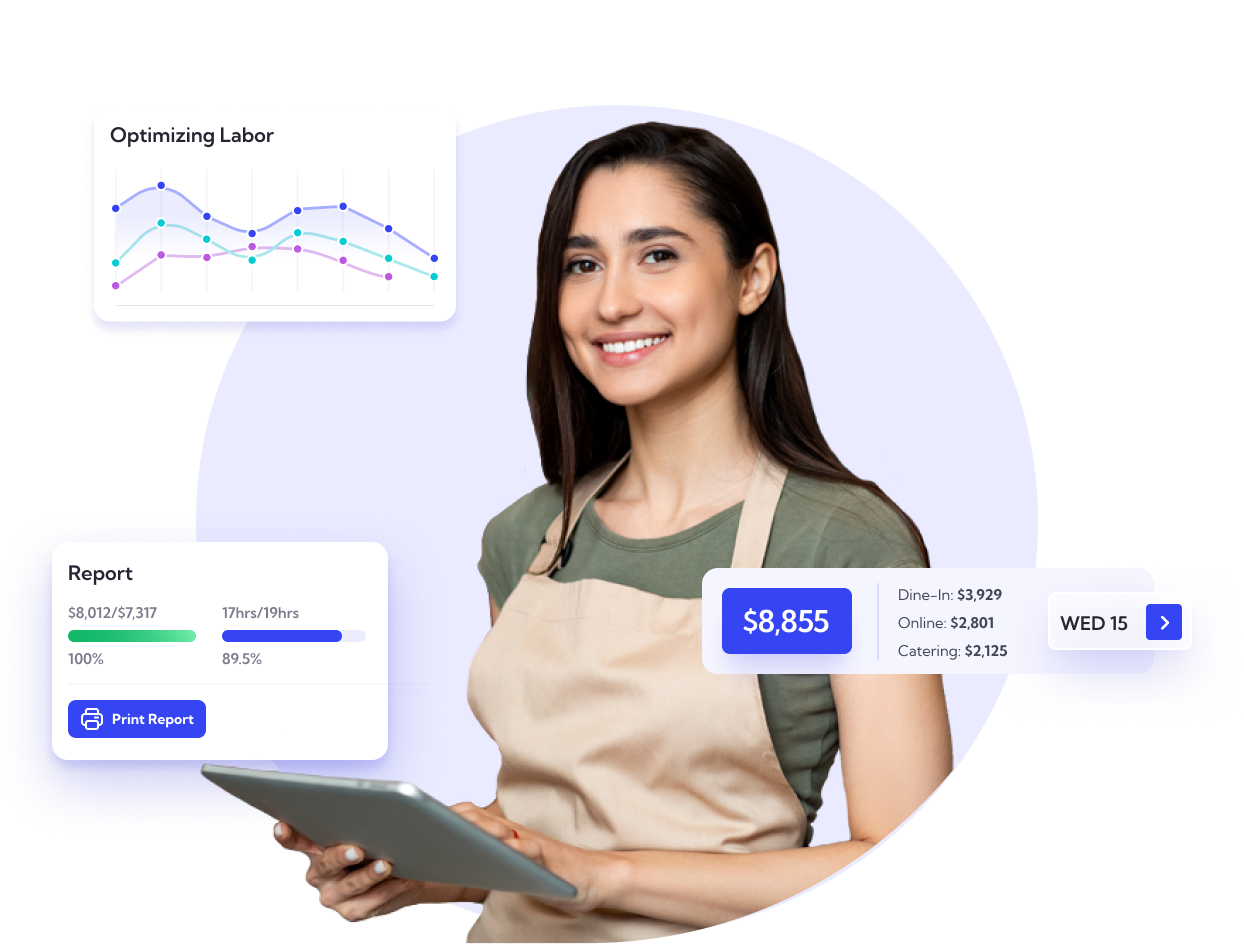 GROWS WITH YOU
Lineup.ai is built for scale
Our restaurant forecasting software can support a few local spots or thousands of nationwide locations. As your operations grow, so will your efficiency with AI forecasting.
Restaurants with multiple locations
Quick-service restaurants
Local and regional restaurant groups
INTEGRATIONS
We integrate with top restaurant solutions to save you more time
Connect your point-of-sale (POS) or data management software with Lineup.ai for seamless forecasting. We'll work with you to integrate existing systems, or you can check to see if we already have an integration set up.
Lineup.ai significantly dropped payroll for our 17 restaurants by about 300 basis points. Annualized, we should see a 1.1-1.3 million dollar savings.
— Michael Schatten
Director of Operations of Carrot Express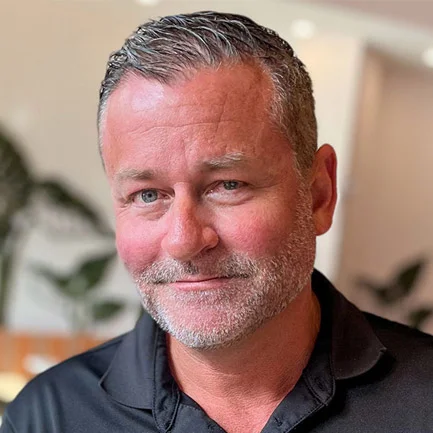 Testimonials
Why restaurants love Lineup.ai
"After a few months of watching the sales forecasting we noticed that Lineup.ai was within 2% or 3% of actual sales." - JP Bimler, Training and Development Manager at Cabo Bob's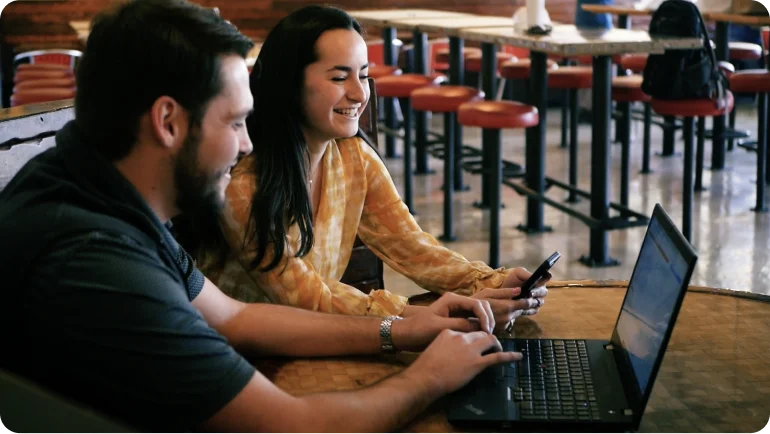 Lineup.ai Challenge
See how much you can save
Leverage the Lineup.ai Challenge to see how much money you could be saving on labor with Lineup.ai. We simply gather your historical sales data, and we will run our forecasting algortihm to identify accuracy opportunities.
Lineup.ai can help
When you have powerful insight at your fingertips, you can minimize food waste, properly staff your restaurants, and deliver a superior guest experience every time.